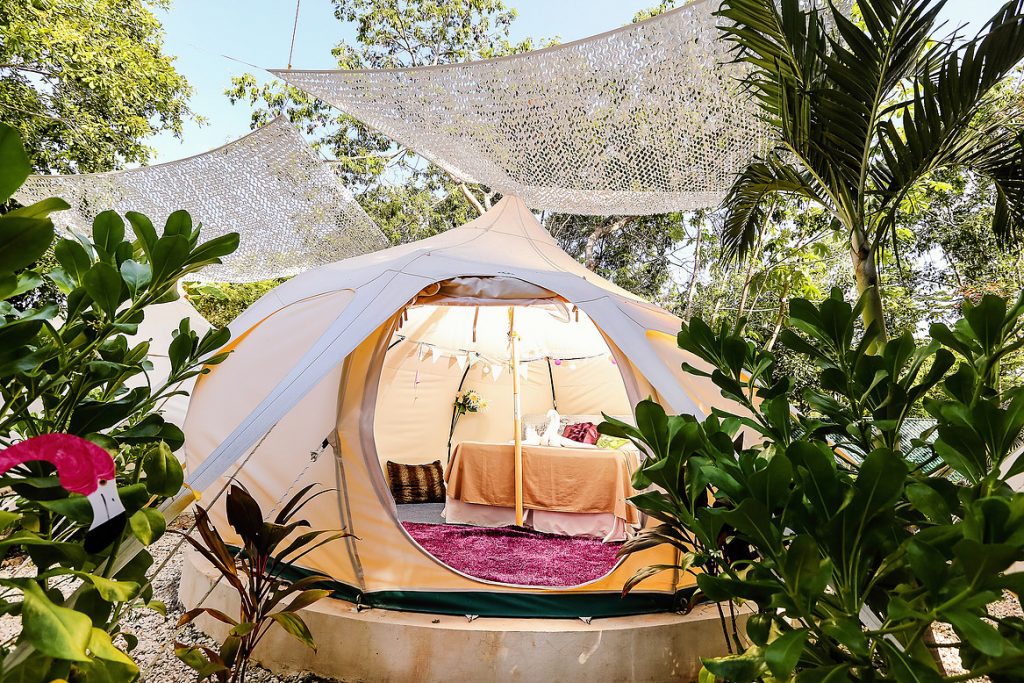 Best Glamping Places to Enjoy the Nature in a Glamorous Way
As a human being, we do ever feel stuck and can't concentrate on anything anymore because of our regular routine. So, going back to nature is needed owing to the fact that it never fail to give us lessons and inspirations. A camping trip is often chosen to solve this problem. However, it can cause another stress moment as the preparation and the experience of camping itself is not easy.
People do enjoy camping, but sometimes some of them get tired of setting up a tent, the backaches, and the bugs in the campground. Well, if you feel so, glamping is the way to go! This is the right time to turn to something with a lot less hassle for the ultimate outdoor experience.
Basically, glamping is a combination of glamorous and camping. It's a luxurios way of getting into the nature while keeping the comforts of home. Glamping provides you a clean and luxurious tent in the midst of the spectacular yet wild view. It has become popular among those who love the outdoors and the finer things in life.
In order to give you a clearer visualization, deCODE has made a list of 5 best glamping spots that are surely pleasing. Let's have a look!
1. The Pampered Wilderness (Washington, USA)
Pampered Wilderness offers beautifully-decorated canvas cabins that are perfect for hassle free getaway. It's located in an old-growth forest near Olympia, Washington. This camp is decorated thematically from rustic to modern. From the moment you pull up, you will be relaxed by the fragrant fir forest and sounds of nature. Upon wakening, you can go hiking, biking, and even swimming around the forest.
2. Whitepod (Switzerland)
Located in the heart of Swiss alps, Whitepod offers you domes-shaped tents anchored on a wooden platform. It sets at 4.6 feet above sea level and is 14 km away from Avoriaz ski area. The luxury and comfort provided here are beyond expectations. You will find luxury furnished tents provides smart TVs and wood-burning heater in here. Whitepod also allows you to experience private ski slopes, tennis, hiking, and sledding. Doesn't it sound so fancy?
3. Harmony Glamping Tulum (Tulum, Mexico)
If you love to tell the world about what an amazing time you're having, this place is for you! Harmony Glamping Tulum is where you can truly enjoy the wilderness that surrounds you while still living in complete luxury. The camp area is located between the pristine white beaches of Tulum and the lush Mayan jungle. It is shaped in a luxury bell tent and is built from eco-friendly materials. All and all, the most amazing part about staying in this camp is it offers free Wi-Fi!
4. Lazy Sky (Yucca Valley, California)
Lazy Sky is another glamping spot for those who love the idea of memorable vacation. It lies between the desert area in Southern California. This camp offers a private, mystical and enchanting getaway into the desert. The insides of each tent is uniquely decorated with crafted furniture that create the unique gypsy desert vibe. This tent also provides a full kitchen and a private bathroom that is extremely clean and well kept. However, there wouldn't be any electricity inside the tent.
Those are glamping places that we have for you to visit. So, would you choose glamping over camping?
[tw-button size="medium" background="" color="blue" target="_blank" link="http://decode.uai.ac.id/?author=44″]Reporter: Vira Anisa[/tw-button] [tw-button size="medium" background="" color="blue" target="_blank" link="http://decode.uai.ac.id/?s=karina+clarasaty"] Editor: Karina Clarasaty[/tw-button]
[tw-social icon="twitter" url="https://twitter.com/deCODE_Magazine" title="Follow our Twitter for more Updates!"][/tw-social] [tw-social icon="instagram" url="https://www.instagram.com/decodemagazine/" title="Follow Our Instagram for more Updates!"][/tw-social] [tw-social icon="facebook" url="https://www.facebook.com/Decode-Magazine-1895957824048036/?hc_ref=ARQllNXfRdmjk9r__uOAjkB4vJc2ohjO-3fMBz5-Ph_uF74OzCx-zYf-biULGvQzGWk&fref=nf" title="Follow our facebook for more Updates!"][/tw-social]