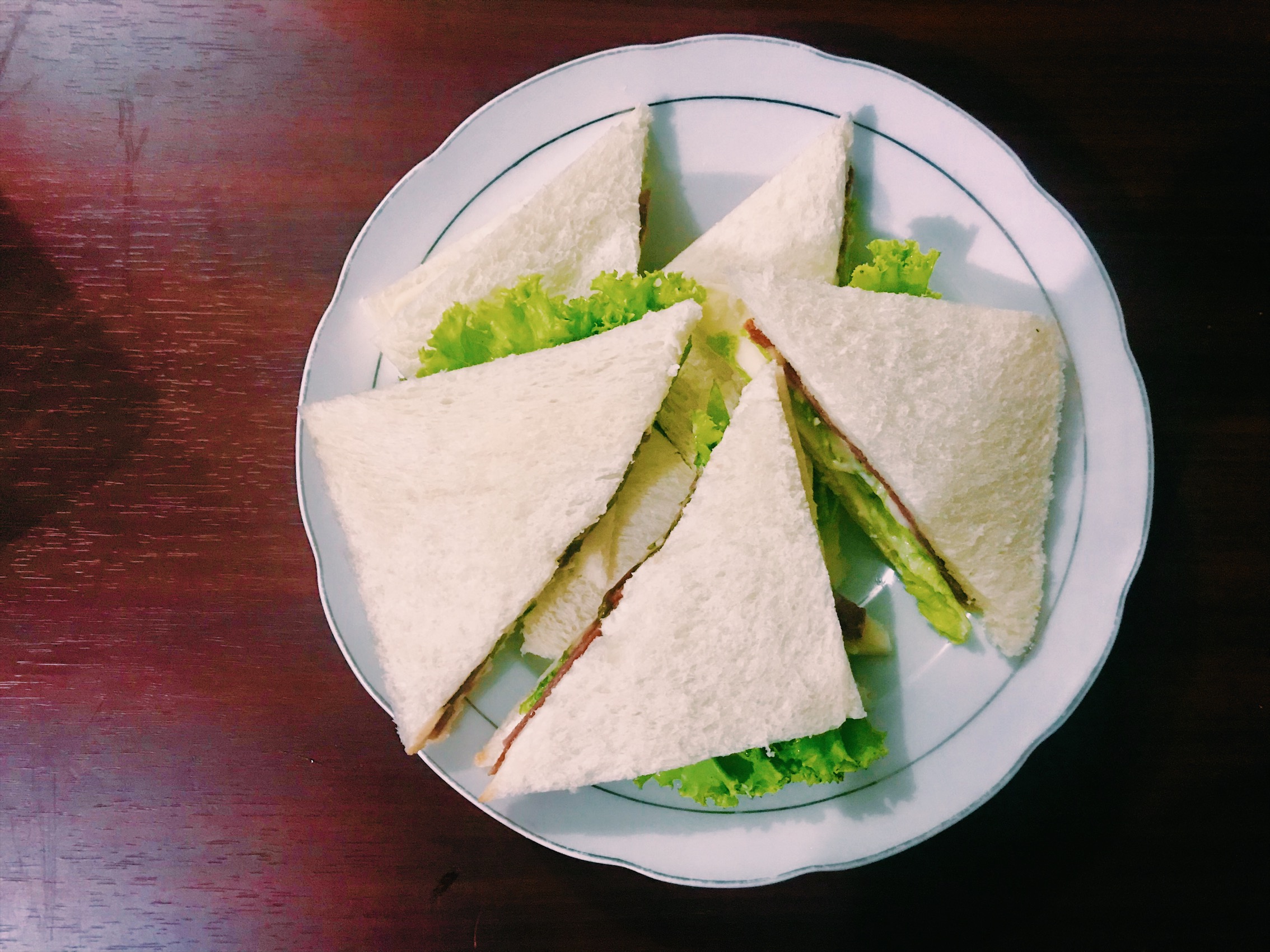 Resep ala deCODE: Ham and Cheese Sandwich
Sarapan adalah suatu kewajiban bagi para manusia, sebab dapat membantu menjernihkan otak dalam menjaga konsentrasi serta mencegah datangnya penyakit maag. Kadang kita terlalu terburu-buru untuk pergi menjalankan aktivitas dan cenderung melupakan sarapan pagi. Alasannya sering kali adalah karena takut terlambat.
Oleh karena itu, kali ini deCODE Magazine akan memberikan resep masakan praktis untuk kalian yang ingin membuat sarapan tanpa membutuhkan waktu yang lama dan pastinya sehat dan bergizi. Penasaran bagaimana cara membuatnya? Yuk simak artikelnya!
Bahan:
Daging ham lembaran yang sudah di goreng sebelumnya : 3 lembar (boleh lebih sesuai keinginan)
Selada yang sudah dicuci bersih
Keju lembaran : 3 lembar (boleh lebih sesuai keinginan)
Mayonais
Saus tomat
Roti tawar : 6 lembar (boleh lebih sesuai keinginan)
Cara Membuat:
1. Siapkan satu lembar roti tawar lalu letakkan keju, selada, saus tomat, dan mayonais
2. Letakkan daging ham yang sudah digoreng di atas selada, saus tomat, dan mayonais.
3. Kemudian, lumuri lagi dengan mayonais dan tutup dengan lembaran roti tawar.
4. Terakhir, potong sandwich secara diagonal dan sandwich siap di hidangkan.
Nah! Bagaimana sahabat deCODE? Tertarik untuk mencobanya sendiri di rumah atau di kost-kost-an kalian? Semoga artikel kali ini dapat menginspirasi dan juga menjadi referensi bagi sahabat deCODE dalam membuat masakan rumahan. And once again, thank you!
[tw-button size="medium" background="" color="blue" target="_blank" link="http://decode.uai.ac.id/?author=32″]Oleh: Melinda Nurifkha N[/tw-button] [tw-button size="medium" background="" color="blue" target="_blank" link="http://decode.uai.ac.id/?author=27″]Editor: Maulani Mulianingsih[/tw-button]
[tw-social icon="twitter" url="https://twitter.com/deCODE_Magazine" title="Follow our Twitter for more Updates!"][/tw-social] [tw-social icon="instagram" url="https://www.instagram.com/decodemagazine/" title="Follow Our Instagram for more Updates!"][/tw-social] [tw-social icon="facebook" url="https://www.facebook.com/Decode-Magazine-1895957824048036/?hc_ref=ARQllNXfRdmjk9r__uOAjkB4vJc2ohjO-3fMBz5-Ph_uF74OzCx-zYf-biULGvQzGWk&fref=nf" title="Follow our facebook for more Updates!"][/tw-social]