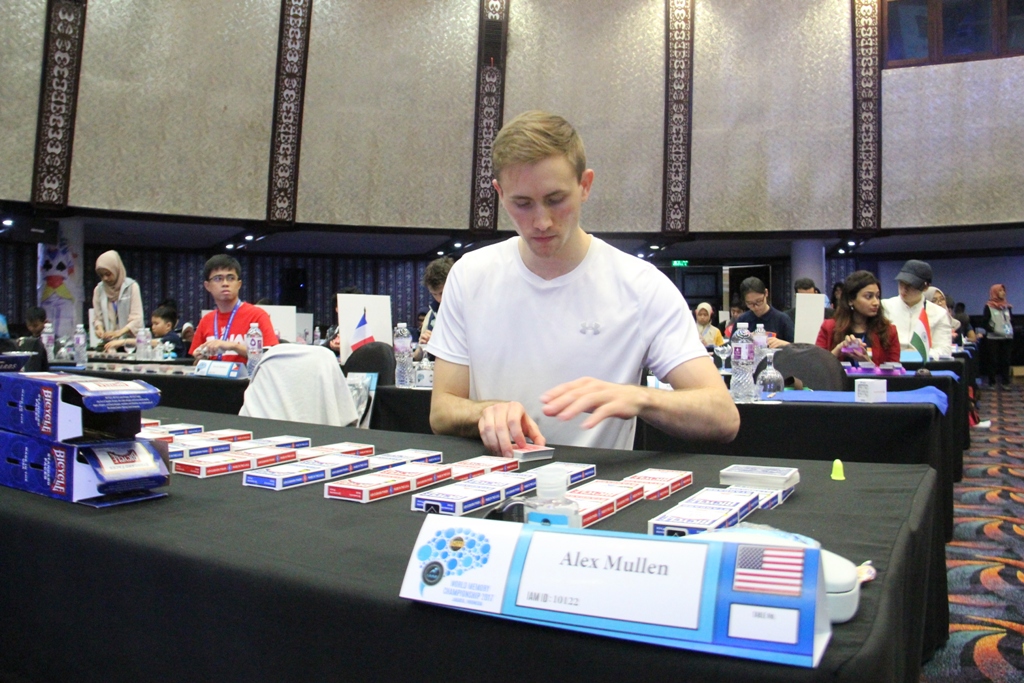 The Most Silent Championship, World Memory Championship.
If we go to the championship, we will meet a lot of people supporting their team by singing, clapping, and screaming. But there is some championship which need silence when the competition begins. One of the competitions is memory championship. Indonesia is the home of World Memory Championship this year. WMC (World Memory Championship) was held in Ancol, Jakarta from December 1st – 3rd, 2017.
This competition is joined by 21 countries from all around the world. They are Indonesia, Mongolia, Denmark, Sweden, Germany, UK, USA, Japan, India, South Korea, Libya, China, Malaysia, and many more. Mongolia is the country which sends the most participants in this event. On the first day, this event held three memory disciplines, they are binary, numbers, names and faces competition. On the second day, the competitions are images, speed numbers, dates and cards. And on the last day, the competitions are words, spoken numbers, and speed cards.
The most interesting discipline is speed cards memory, where all participants need to memorize a pack of card which already shuffled as fast as they can. The winner of the disciplines makes the new world record. He can memorize pack of cards correctly only for 15 seconds! He is Alex Mullen from USA. There is another new world record for junior category of speed cards with 19 seconds, she is Lkhagvadulam Enkhtuya from Mongolia. Mongolia sends 20 participants from all age categories and success to be the first country champion with 22.531 points, followed by USA with 17.680 points, and Germany with 13.914 points.
Every participant has their own goal by joining this competition. Larse, one of the participant from Denmark share his story with deCODE about his journey and his goal on memory competition. He has interest in memory competition because he wants to know how much his brain capacity really work. So then, Larse decided to join memory competition on 2012. Even though he needs 17 hours to fly to Indonesia, he still has spirit to come and join this event. "I want to be a Grandmaster of memory on today competitions. That is my goals and the thing that encourage me the most to join this competition", he said. He finally achieves his goal in this competition and success to be the Grandmaster of Memory, congrats Mr. Larse!
Besides seeing people achieving their goals, what makes this event more interesting is some of the participants can't speak english. All the committee need to speak with gesture to make them understand and also need to print answer paper in different language for them. There are also interpreters on the stage and translators on arbiter's room. One of the arbiter from India, Ramyasree Yarlagadda, said that the hardest part of being an arbiter is you need to understand other languages because you need to correct all paper from other countries. "Thankfully, there are some translators that will help me to translate china and arab, because their alphabet is different from most of us." She said.
Meanwhile, for Mucahit the arbiter from Turkey, the hardest part of being an arbiter is you have big responsibility to correct papers. And the hardest discipline to correct for him is "the number". It is because every participant has different handwriting. Sometimes you can't decide what number it is, but you need to make a decision and give them the right score. This is the first time for Mucahit as an arbiter, as before he was the competitor since 2007. "I want to try something new. So I decide to be an Arbiter this year. But the atmosphere on this competition increases my appetite to join as a competitor again next year." He said. "Being an arbiter is good, but being the competitor is much more interesting", he continued. He hopes he can be a trainer and teach the new generations about memory, so Turkey can send its team on the next year competition.
After all the marking process, the winner of the competition announced. As we mention before, Mongolia is the country which win most of the medal. But, Indonesia is also makes good marks in this competition. Indonesia is the 3rd winner of 15' names and faces junior category, the 3rd winner of 60' numbers kid category, the 3rd winner of world 5' images kid category, and the 3rd winner on world 5' numbers kid category. Hopefully Indonesia will win as the 1st winner on all categories next year!
Reporter: Safa | Editor: Galih Perdana