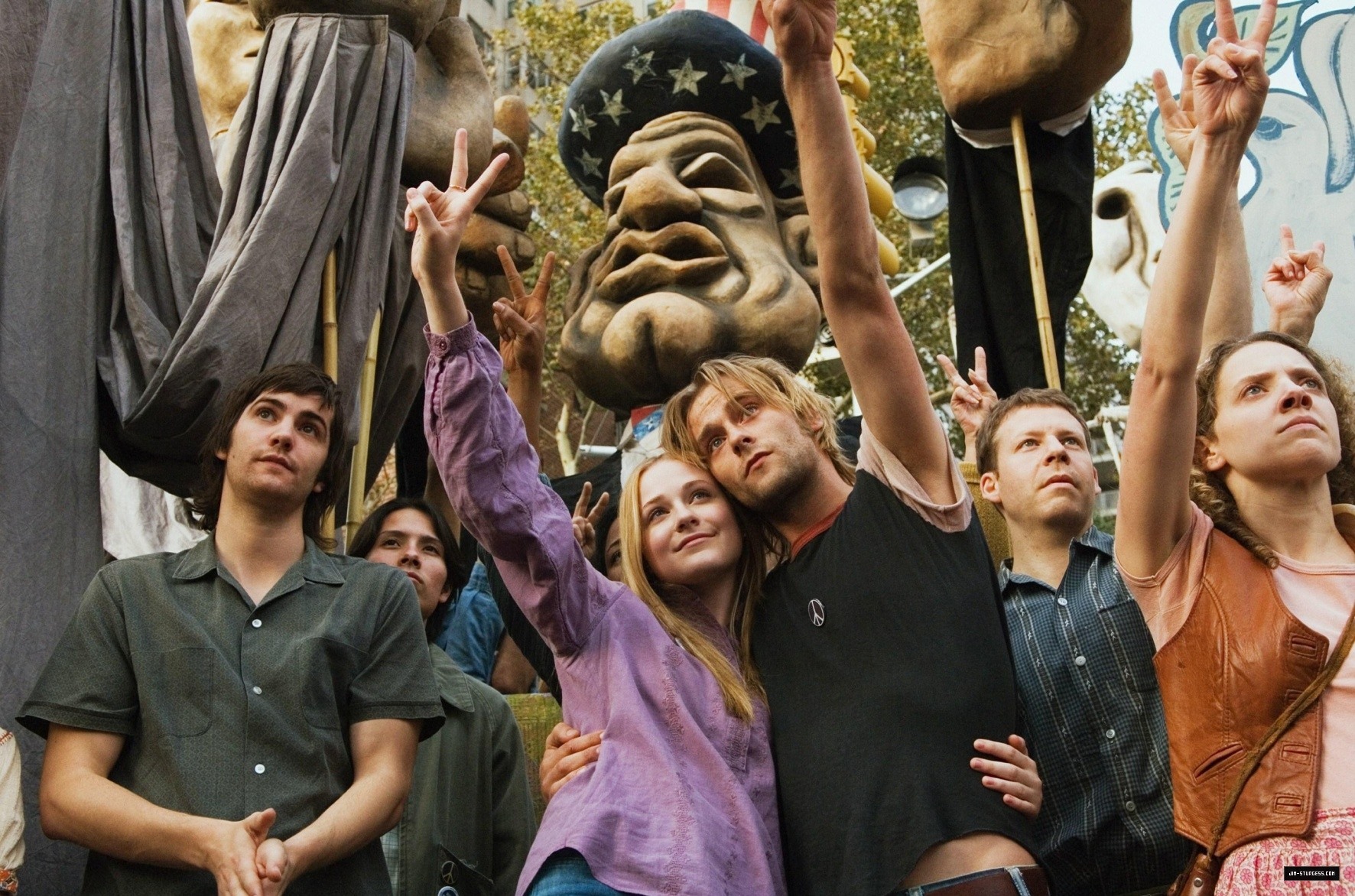 Across The Universe with The Beatles
Across The Universe is a 2007 British-American drama musical movie directed by Julie Taymor, starring by Jim Sturgess, Evan Rachel Wood, Joe Anderson and T.V. Carpio and introduces Dana Fuchs and Martin Luther McCoy. This film centered on songs of the legendary rock group The Beatles. The songs are arranged by Elliot Goldonthal that made the songs merge with the film and made the film more interesting. It has 34 The Beatles's songs that can bring you to remember The Beatles in 1960s. When they're the most famous rock band in that era and because of the film, mostly used the role's name from the title of The Beatles's songs such as Jude, Lucy, Prudence, Dr. Robert and Mr. Kite.
The story started with a boy named Jude (Jum Sturgess) sings "Girl" who lives in Liverpool and wants to find his father in America on 1960s. When the Vietnam war happens. He meets Max (Joe Anderson) who loves to live free and have fun with his friends. Jude and Max live in apartment sharing with Sadie (Dana Fuchs) and his boyfriend Jo-Jo (Martin Luther). They are hippies who work as a musician and perform as a band in restaurants every night. Sadie and Jo-Jo was singing "Helter Skelter", "Why Don't We Do It In The Road", "Oh! Darling", "Don't Let Me Down" really good.
Jude and Max are getting closer, until Jude is starting to has a crush with Max's cousin, Lucy (Evan Rachel Wood). Jude was singing "I've Just Seen A Face", when he realizes that he likes Lucy. They fall in love and sing The Beatles's love songs such as "If I Fell", "Something", "All You Need Is Love" and etc. Lucy likes him back and they live together in Jude's apartment as a lover. Besides Sadie, Jo-Jo, Max, Jude and Lucy, there is a girl who also lives in that apartment named Prudence. She walks away from her home and she feels lonely. So her friends sing "Dear, Prundence" beautifully for her to make her happy.
The film also has a touch of Vietnam War which happened in 1960s. It told us when Lucy's ex-boyfriend died in Vietnam War and Max joined the army to go to Vietnam and when Lucy joined one of mass media company to do the demonstration about stopping the war. Jude was so angry with her and sing "Revolution" and "Strawberry Fields Forever" really good. Many conflicts happened and made they are all separated. But in the end, Jude was searching for Lucy and they are all becoming back together because The Beatles said that All You Need Is Love.
This film is highly recommended for you who love The Beatles, the legendary and the most famous rock band in 1960s. The arrangement of the songs are really good, even though the original version was the best but this film make you drown in every part. Because the songs are just match with the scene. For those who love The Beatles, this film is visually good and you will enjoy the movie by singing along during the film.
Reported by Shinta Aulya | Edited by: Nadhira Aliya & Galih Perdana