Kembali Hadir! FISIP WEEK 2021 Pada 16-17 Oktober, Yuk Daftar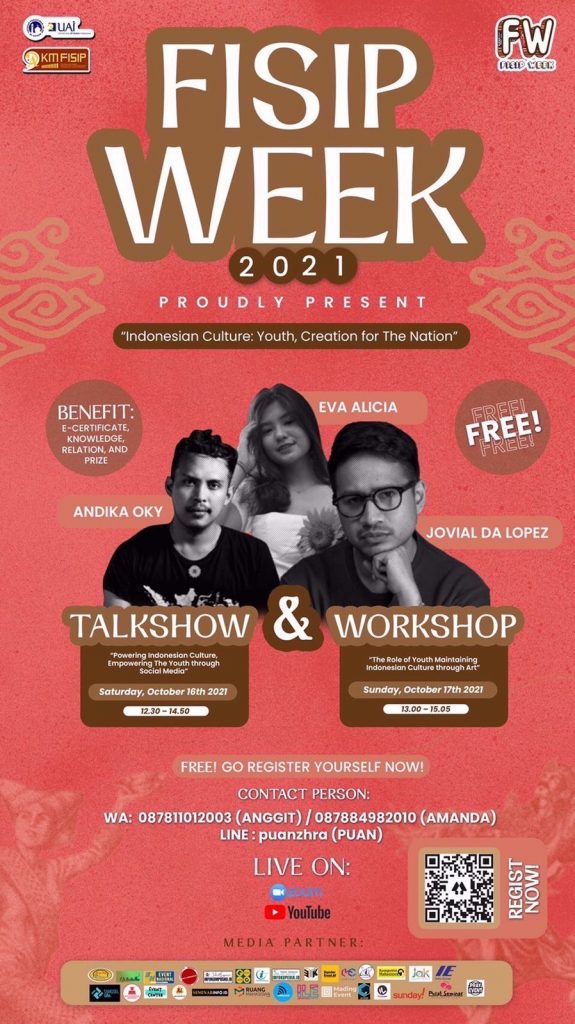 Hallo sahabat deCode! Acara tahunan Fisip Week yang diselenggarakan oleh Keluarga Mahasiswa Fakultas Ilmu Sosial dan Ilmu Politik (KM FISIP UAI) kembali hadir.
Fisip Week 2021 akan digelar pada tanggal 16-17 Oktober 2021. Dengan mengusung tema "Indonesia Culture : Youth, Creation for The Nation". Berbeda dengan sebelumnya, tahun ini Fisip Week hadir dengan tema kebudayaan Indonesia. Dimana akhir-akhir ini anak muda mulai membangkitkan kebudayaan Indonesia.
Dengan situasi pandemi COVID-19 saat ini acara akan berlangsung virtual via zoom meeting dan live streaming youtube. Fisip Week tahun ini mengundang beberapa narasumber diantaranya Jovial da Lopez, Eva Alicia, Andika Oky.
Tujuan acara ini adalah meningkatkan awareness anak muda dalam melestarikan budaya Indonesia dan menyampaikan pesan kepada generasi muda agar tidak melupakan budaya serta merawat kesenian dan kebudayaan yang ada di Indonesia.
Di hari pertama akan diselenggarakan talk show dengan judul "Powering Indonesian Culture, Empowering the Youth Through Social Media" dengan narasumber Jovial da Lopez dan Oky Risandi yang akan membagikan pengalaman ketika membuat konten mengenai kebudayaan Indonesia dan sesi tanya jawab.
Di hari kedua dilanjut dengan workshop berjudul "The Role of In Maintaining Indonesian Culture through Art" dengan narasumber Eva Alicia yang akan membahas bagaimana cara membuat konsep konten hingga menjadi karya kreatif, serta mengajak peserta untuk bebas bereskpresi dalam membuat sebuah karya kreatif dan akan dibahas juga lho sahabat deCODE.
Acara Fisip Week 2021 ini diharapkan mampu membuat sudut pandang generasi muda agar lebih menjaga dan konsisten dalam melestarikan budaya Indonesia.
Bagi sahabat deCODE yang ingin datang ke acara tersebut bisa daftar melalui loket.com atau bisa kepoin di Instagram @fisipweek.uai
[tw-button size="medium" background="" color="blue" target="_blank" link="http://decode.uai.ac.id/?s=Muhammad+Revanza"]Penulis: Muhammad Revanza[/tw-button] [tw-button size="medium" background="" color="blue" target="_blank" link="http://decode.uai.ac.id/?s=Annisa+Dewi"]Editor: Annisa Dewi[/tw-button]
[tw-social icon="twitter" url="https://twitter.com/deCODE_Magazine" title="Follow our Twitter for more Updates!"][/tw-social] [tw-social icon="instagram" url="https://www.instagram.com/decodemagazine/" title="Follow Our Instagram for more Updates!"][/tw-social] [tw-social icon="facebook" url="https://www.facebook.com/Decode-Magazine-1895957824048036/?hc_ref=ARQllNXfRdmjk9r__uOAjkB4vJc2ohjO-3fMBz5-Ph_uF74OzCx-zYf-biULGvQzGWk&fref=nf" title="Follow our facebook for more Updates!"][/tw-social]