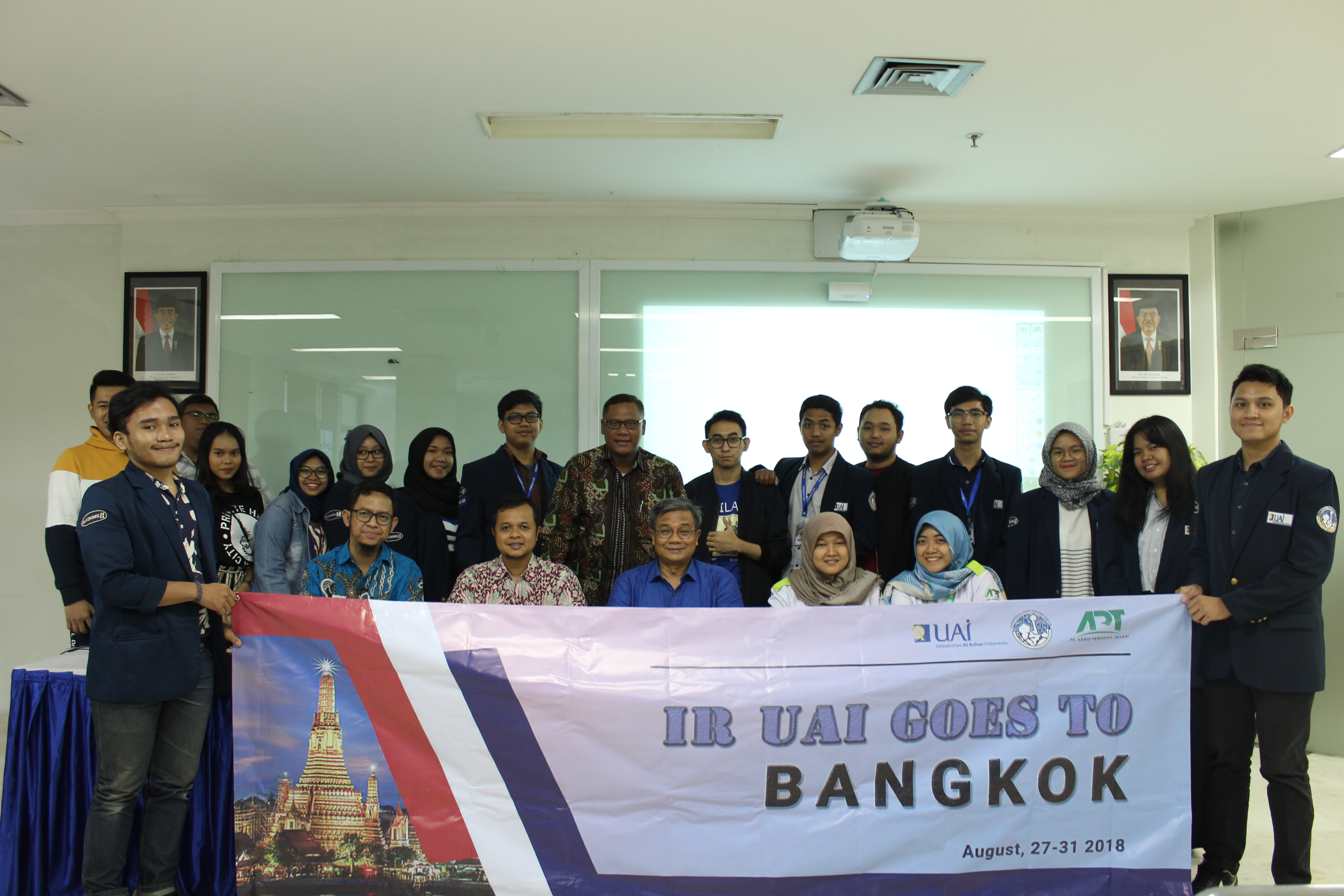 KOMAHI Universitas Al Azhar Indonesia Menggelar Studi Banding ke Bangkok
Pada kesempatan kali ini, KOMAHI (Korps Mahasiswa Hubungan Internasional) menghidupkan kembali program kerja Studi Banding Hubungan Internasional Universitas Al Azhar Indonesia yang sebelumnya pernah diadakan pada tahun 2012 ke Kuala Lumpur, Malaysia. Tahun ini, KOMAHI kembali mengadakan program kerja Studi Ekskursi Hubungan Internasional Universitas Al Azhar Indonesia Goes to Bangkok.
Studi Ekskursi merupakan perjalanan studi lapangan yang merupakan termasuk salah satu kurikulum dari Universitas Al Azhar Indonesia yang diusung oleh KOMAHI. Acara Pelepasan Studi Ekskursi Hubungan Internasional UAI Goes to Bangkok ini dibuka oleh Rektor Universitas Al Azhar Indonesia Prof Dr. Ir. Asep Saefuddin dan R. Mokhammad Luthfi yang dilaksanakan di Ruang CIMB Niaga Universitas Al Azhar Indonesia pada Sabtu (25/8).
Kegiatan ini diikuti oleh 19 peserta Hubungan Internasional Universitas Al Azhar Indonesia yang didampingi oleh Yasmi Adriansyah selaku dosen Hubungan Internasional, dan beberapa staff lainnya. Acara tersebut dilaksanakan selama 5 hari. Selama di Bangkok, peserta akan mengunjungi beberapa tempat penting. Diantaranya yaitu seperti ke kantor Kedutaan Besar Republik Indonesia (KBRI) di Bangkok, United Nations Bangkok, dan Kampus University of the Thai Chamber of Commerce Bangkok (yang merupakan salah satu partner dari Universitas al Azhar Indonesia).
Tujuan utama melakukan Studi Ekskursi ke Bangkok ini adalah untuk mengunjungi perwakilan PBB yang mencakup Asia Pasifik di Thailand sebagai konsentrasi dari Prodi Hubungan Internasional ini.
"Saya berharap semoga program ini dapat berlanjut tidak hanya sebatas di Asia Tenggara saja, tetapi bisa meluas ke negara-negara lainnya." ucap M. Subhan Alkiana sebagai Ketua Pelaksana Studi Ekskursi Hubungan Internasional Universitas Al Azhar Indonesia Goes to Bangkok.
Pada pelepasan acara tersebut, diharapkan para peserta mampu membawa pengetahuan baru yang bisa ditularkan kepada orang-orang disekitarnya, membuka cakrawala pikiran, menambah jaringan di Kampus UCTC dan menambah pengetahuan tentang United Nations yang merupakan markas terbesar di Bangkok.
"Keep moving, be happy, don't worry. Enjoy your working. Tapi jangan enjoy terus-terusan. And don't complain! If you complain, u lose. Selalu berfikiran positif" ucap Asep Saefuddin sebagai penutup.
[tw-button size="medium" background="" color="blue" target="_self"]Reporter & Fotografer:[/tw-button] [tw-button size="medium" background="" color="blue" target="_blank" link="http://decode.uai.ac.id/?author=25″]Sherly Ayu[/tw-button] [tw-button size="medium" background="" color="blue" target="_blank" link="http://decode.uai.ac.id/?author=33″]Riska Fitria[/tw-button]
[tw-social icon="twitter" url="https://twitter.com/deCODE_Magazine" title="Follow our Twitter for more Updates!"][/tw-social] [tw-social icon="instagram" url="https://www.instagram.com/decodemagazine/" title="Follow Our Instagram for more Updates!"][/tw-social] [tw-social icon="facebook" url="https://www.facebook.com/Decode-Magazine-1895957824048036/?hc_ref=ARQllNXfRdmjk9r__uOAjkB4vJc2ohjO-3fMBz5-Ph_uF74OzCx-zYf-biULGvQzGWk&fref=nf" title="Follow our facebook for more Updates!"][/tw-social]